RedStarRocket91 Owns the official speculation thread!! Links at the bottom of the post.
Alright everyone, So Halo 5: Guardians has been announced to arrive in Fall of 2015. All we know so far is that there is a spartan in silver armor, that is not female. Which eliminates Palmer and Cortana from this equation. What I can say though, is that this spartan's helmet heavily resembles the Mark V [B] variant from Halo: Reach - The main protagonists helmet, Noble Six. We notice that his armor has an ONI symbol on the chest plate, Meaning that he is either hunting for John, or he is out on a mission much like John.
What I have noticed so far, in a good view of the photo is this -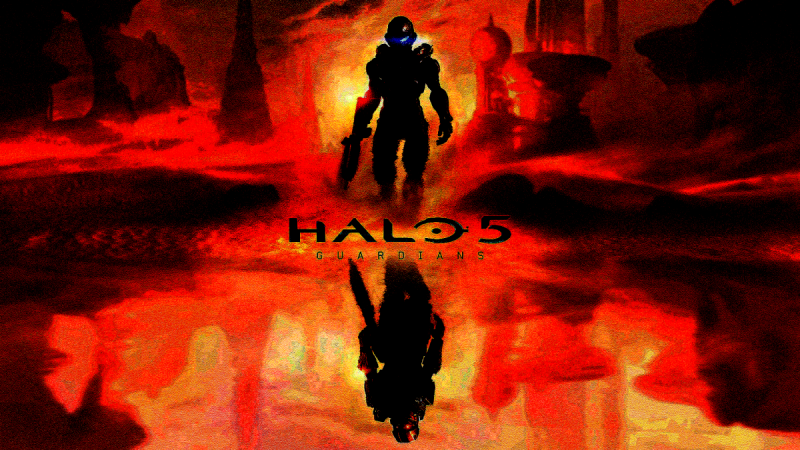 As you can see, where John is standing is practically a reflection of where the silver spartan is. Now, this can lead to many speculations. But with this here, I now get the feeling the silver spartan is hunting for John. A reflection of something can be seen as a flashback, or maybe just reflection of where they may be. But if they are both going to the same places - It is no doubt this spartan wants something to do with John.
This spartan may be hunting John for the reason that he has left the crew of the Infinity - Gone rogue. In the Halo 5 E3 2013 trailer, We can see his visor is cracked and he has a robe in place of his armor. His fore arm pieces are still present as well as his helmet. But his leg and foot pieces are gone, the chest plate is gone, and so on.
Frank O' Connor did say that John WAS indeed hiding himself from something - On purpose. When he found the "War Sphinx" which is the huge forerunner bird rising from the sand, He pulls out Cortana's chip and clutches it. Either this can mean that he is going to use the A.I most likely running the War Sphinx as a possible companion, Or he is looking for Mendicant Bias. Although that rumor is in the sand - As everyone speculates they are both in the planet Sangheilios. Which has been described as what we've seen in the trailer. Also, in the concept art we can see two moons up in the sky -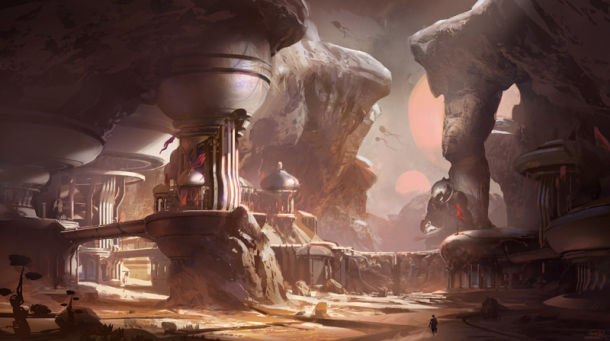 With all this new information on Halo 5, What do you all think is really coming together here? Leave any speculations/theories below.
Pictures - http://www.ign.com/a...-of-concept-art
http://www.cnet.com/...r-fall-of-2015/
THANKS TO REDSTARROCKET91 AND THE NEWS CREW FOR GETTING OUT ADDITIONAL INFORMATION.
Skummigummigubbe's Article - http://www.343indust...ns/#entry317414
Adam91's Article - http://www.343indust...oncept-art-r969
RedStarRocket91's Speculation Thread - http://www.343indust...ulation-thread/