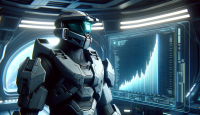 Details of the Price Hike: With Season 5's arrival, the in-game economy of Halo Infinite saw a significant shift. A new pricing model was rolled out, with coatings now being multi-core enabled. This change, aimed at providing more customization options, has come with increased costs, causing a stir within the community.
Community Reaction: The reaction was swift and vocal, with players expressing their frustration on social forums and community boards. The price hike has not only affected the affordability of cosmetic items but has also raised questions about the direction of the game's monetization strategy.
343 Industries' Response: In the wake of this backlash, 343 Industries has stepped forward to address the concerns. Acknowledging the players' sentiments, the developers have explained the reasoning behind the new pricing, emphasizing the value they believe these changes bring to the player experience.
Impact on Gameplay and Customization: While these adjustments do not directly influence gameplay mechanics, they significantly affect the customization landscape—a feature many Spartans hold dear. The new pricing may alter how players engage with the game's cosmetic content, potentially impacting the overall enjoyment for some.
What are your thoughts on these adjustments? How do they influence your experience as a Spartan?