"
Xbox 360's dashboard update is rolling out today (October 16).

The latest version of the console's firmware is downloadable today for some users, and will be gradually made available for everyone over the next few weeks.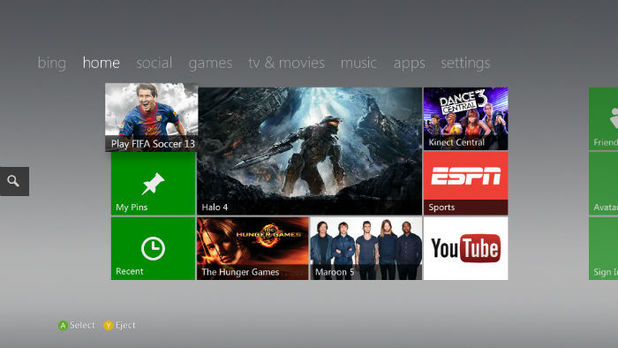 "Our initial deployment will reach approximately three million consoles worldwide, with additional users being updated over the course of a couple of weeks," said director of programming Larry Hryb.

"Don't panic if you don't see an immediate update, just keep checking back in."

The update refreshes the 'Metro' branded interface with a tweaked layout of tiles, combines the TV and Movies channels, and in the US, introduces a sports channel.

Internet Explorer will be added for Xbox Live Gold subscribers, allowing users to browse the web with a controller or Kinect.

Searching is now expanded to genre, while voice search now includes YouTube, and is available to new countries including Ireland, Canada, France, Germany, Japan, Mexico, Italy, Spain and Austria.

Favourite content can be pinned to the dashboard, allowing fast access to games, TV shows, music, videos and websites.

Similarly, Quick Play will be rebranded as Recent, providing a list of games, movies and apps last used on the console.

Zune Video Marketplace is to be rebranded as Xbox Video, offering hundreds of thousands of TV shows and movies available for purchase or renting.

The recently announced Xbox Music will also be made available today.

The update introduces Xbox SmartGlass, which will be made available when Windows 8 launches on October 26.
"
Source: Digital Spy
This post has been promoted to an article